Bees at risk: Protecting native pollinators is priority
#Pollinators — those little visitors who frequent the blossoms in gardens, fields and nature areas — are hot topics for Minnesotans this month, despite sub-zero winter temperatures.

Butterflies, #bees and hummingbirds are the subjects of workshops, exhibits and many recently published nature books and magazines. An anthology of #bee poems is on the list of University of Minnesota Press new titles. Gardeners search through seed catalogs looking for varieties preferred by nectar seekers.

Interest in monarchs and other beneficial insects has been increasing throughout the country — and not only because they are beautiful and interesting to watch. If their numbers continue to decline, the nation's food supply will be in danger.

Bees while on the job siphoning nectar and collecting pollen for themselves, carry the sticky yellow powder back and forth to blossoms. More than 90 crops rely on the pollinators' help to create seeds.

The Minnesota Landscape Arboretum near Chaska is preparing its new Bee and Pollinator Discovery Center to open this summer. One of its exhibits features information about a Sibley County family's honey business that lost about one-third of its bees about 10 years ago.

Their bees were dying and the Honls did not know why. There was a name for the widespread phenomenon their business experienced: colony collapse disorder.

#Honey bee hive populations dwindled. Bee keepers were not finding dead colony members inside or nearby the hives. The insects' couldn't be found.

Bert Honl recently was reached by phone as he was en route to Texas with a load of bees. His family's business farms out its colonies as commercial pollinators.

"Our business has been doing OK. Every year is different. We've had some problems in 2015 with mites and low-pollen count. It's the fungicides that really hurt. They don't hurt the bees but they kill the broods."

#Beekeepers understand crops need to be protected from destructive insects.

"Farmers have to spray for aphids. They are only controlling what they have to control."

Honl considers mowed and sprayed ditches as the biggest problem for Minnesota honey operations and shortages of nectar and pollen. Roadside vegetation is being cut before his bees are done harvesting.

"Lots of flowers still are blooming in the fall, but we end up buying man-made mixes for our bees. It keeps them healthy, but the queens aren't stimulated to make eggs. It's costing us a lot more money to keep bees," he said.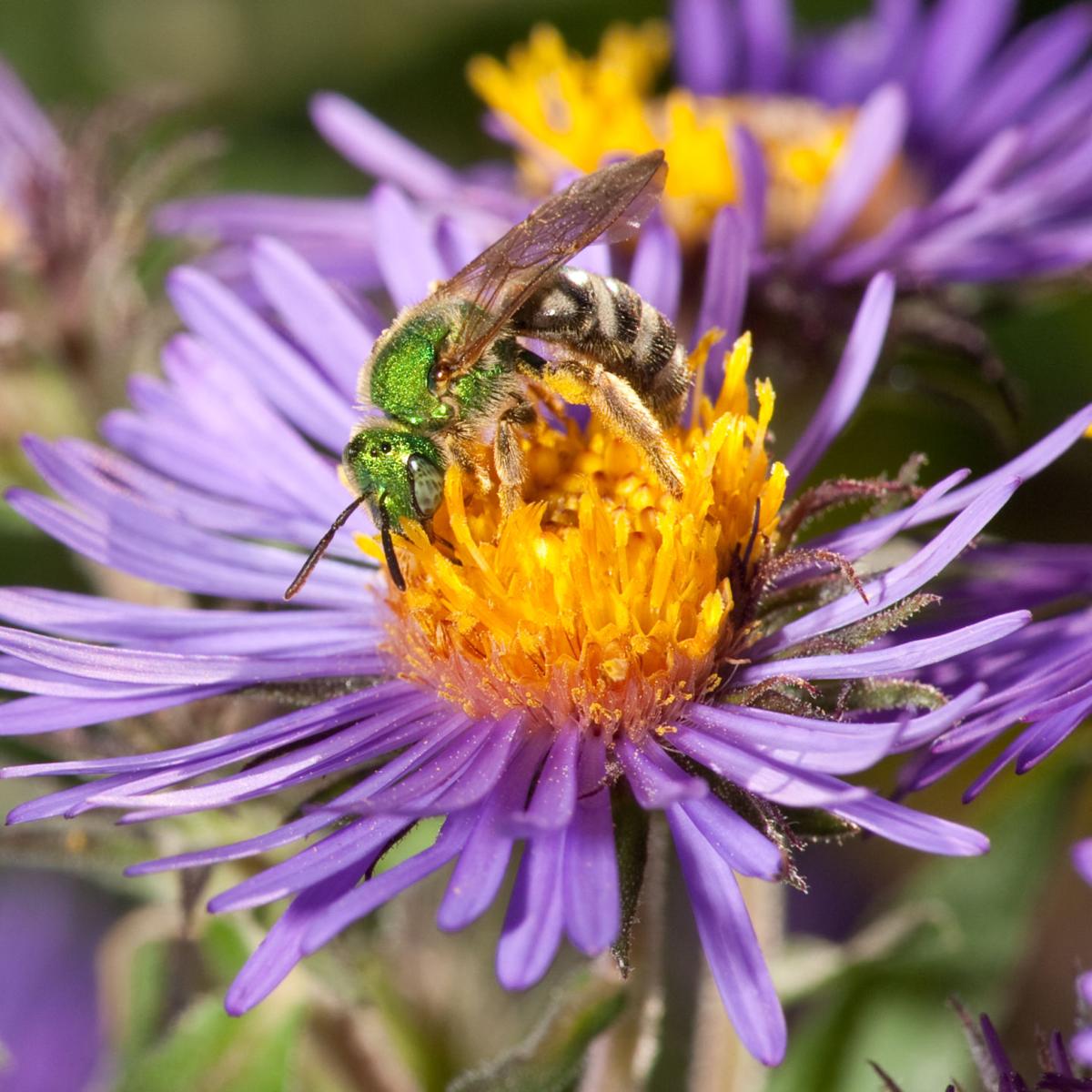 The Honey House, which the Honl family operates in Winthrop, has seen benefits from hobbyists who want their own hives.

"Our sales of bees, in small numbers, have gone way up. Everybody wants to help save the environment," Honl said.

Clinton Meyer tends to hives set up on his rural Wells property. He and some of his fellow hobbyists have been traveling to Rochester where an established group of beekeepers meet regularly.

Meyer hopes to organize a network of area enthusiasts who want to learn about pollinators and educate others about bees.

Rescuing Minnesota's native pollinators

The prospect of a future without honey is not the only reason Minnesotans are increasingly concerned about the well-being of insects that buzz around in their backyard gardens.

Native bees, which do not gather nectar or pollen to store in hives, are among Minnesota's beneficial insects in need of more habitat and protection from pesticides.

"We've created pollinator wastelands," said Heather Holm, who was one of several presenters at a recent Native Pollinator Workshop at Gustavus Adolphus College.

Kristy Zajac, an organizer for a Nicollet County Pheasants Forever-sponsored workshop, introduced speakers who provided information about how to ensure #pollination in a garden, orchard or farm; how to identify insects and how to provide host plants and nesting sites for native bees and butterflies.

About 50 people, including Meyer the beekeeper, a group of Master Gardeners from Waseca and a Girl Scout troop, came to hear more about how they can help Minnesota's pollinator species.

Gary Rathman, who lives about four miles from Comfrey, owns 200 acres of restored prairie. He attended a break-out session led by Jeff Zajac of the Minnesota Department of Natural Resources about large-scale pollinator habitat and was there to "pick up stuff about bees."

"There are 4,000 other bee species in North America," said Holm, who is an author and photographer as well as a bee researcher.

Bumble bee species are the most common. They are solitary insects and unlike #honey bees, they do not have wings that can handle long hauls. They must find nectar and pollen from within limited spaces, and if they hatch out in an area with sparse flowering vegetation, they cannot easily fly to a greener area.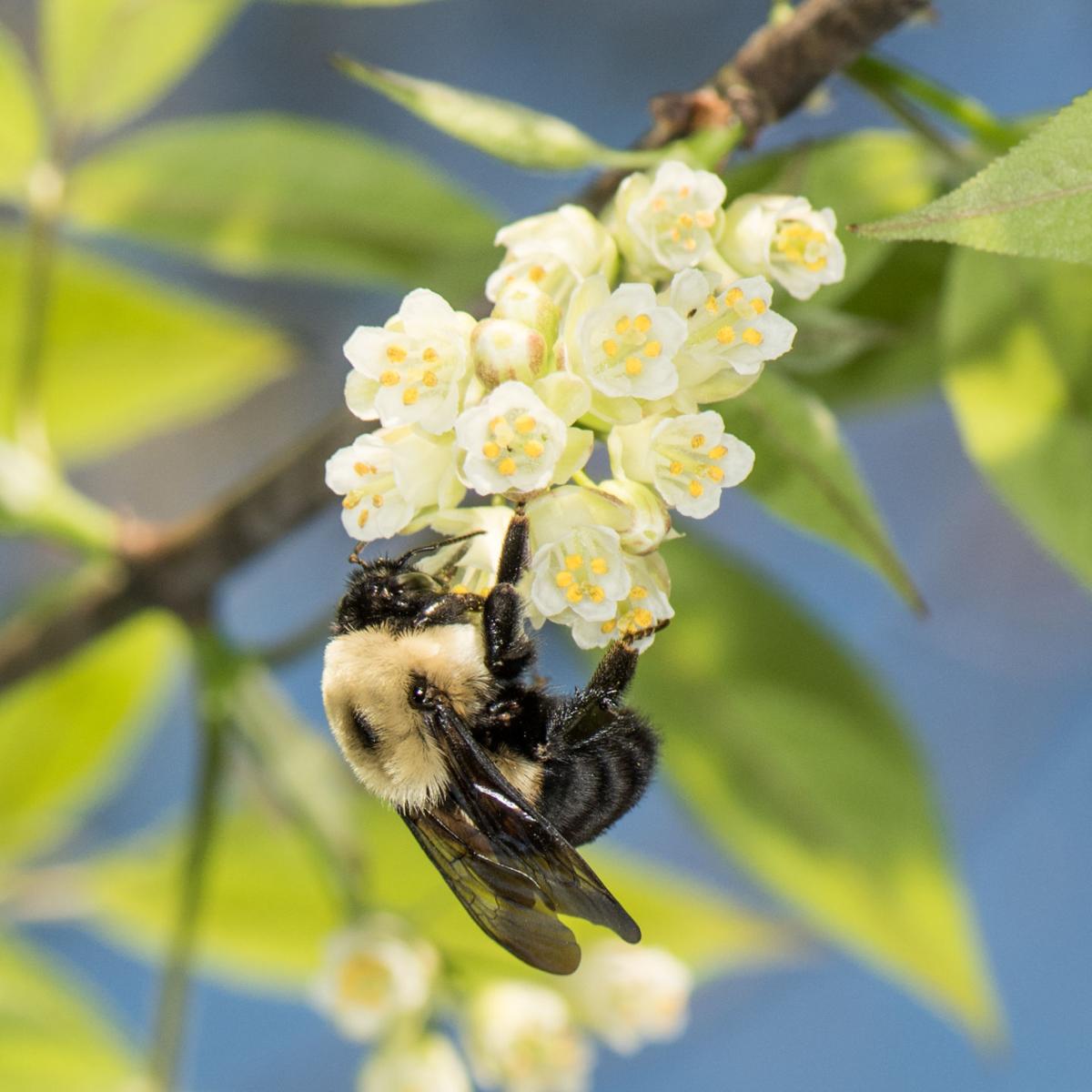 On the other hand, honey bees, a species that was introduced into the state so Minnesotans can partake of the golden sweetness found in their hives, often take trips of up to four miles in search of nectar.

""We're not anti-honey bee — it's just that they get all the kudos. They have rock star status among pollinators," Holm said.

Monarchs: Flagship ambassadors

The habitat needs of monarchs, which have become high-priority insects in conservation efforts, was the focus of segments of the pollinator workshop. Population numbers for the large orange-and-black butterfly species are being scrutinized by the Fish and #Wildlife Service, which will determine if the migratory insect should be included on the endangered species list.

Workshop presenter Genevieve Brand of St. Peter suggested home garden designs that benefit the monarchs passing through the state. Brand is the owner of Seed to Site, a landscaping business that specializes in using native plants species.

"Land in the corn belt is a huge part of its habitat," said workshop presenter Wendy Caldwell of the Monarch Joint Venture project.

Minnesota is a summer breeding ground for monarchs that migrate at an average pace of 25-30 miles per day to specific areas of Mexico, where they spend the winter. The tiny creature that weighs about the same as a paper clip is vulnerable to stormy weather, habitat loss and herbicides used to destroy their host plant, milkweed.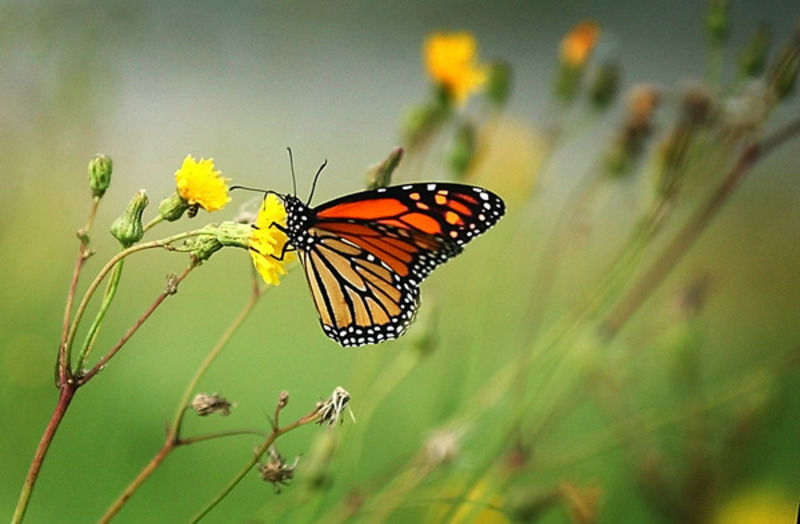 "Monarchs are our flagship ambassadors for pollinators. They don't know boundaries, so they also have become international ambassadors," Caldwell said.

National action

President Obama has instructed a new task force to develop a national strategy for tackling and reducing the impact of multiple stressors on pollinators' health — pests and pathogens, reduced habitat, lack of nutritional resources and exposure to pesticides. The Pollinator Health Task Force's goals are to increase the monarch butterfly's population, to restore million acres of pollinator habitat and to reduce losses in honey bee colonies.

In May, the president directed the Environmental Protection Agency and the U.S. Department of Agriculture to immediately begin efforts to protect pollinator species.

As a result, a new federal rule has been established to protect honey bees that are trucked from farm to farm, according to AP. The rule creates temporary pesticide-free zones when certain plants are in bloom.

Earlier this month, the EPA said some pesticides have an adverse effect on colonies, not just individual honey bees. The finding was part of its first scientific risk assessment of #neonicotinoids, which are pesticides widely used in agriculture.

The study also found it was the crop more than anything that determined if it was above or below that harmful level. While nectar of cotton and citrus fruits were above the harmful level, the levels were not harmful when it came to corn, most vegetables, berries and tobacco.
Please feel free to share